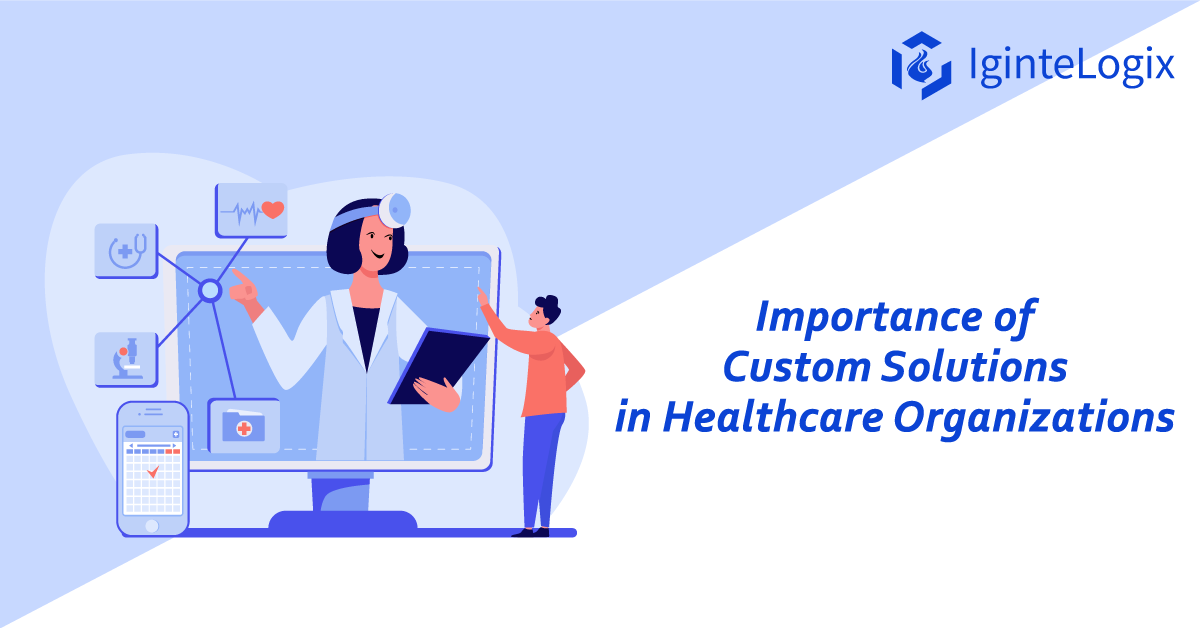 Since our topic of discussion is primarily focused on Customer Application and Software Development Services, so let us look at the ways how custom software developmenthas helped in the digital transformation of the healthcare sector. How is the healthcare industry benefited by the use of custom software development services?
Today, healthcare organizations – big, small, or mid-sized – are under tremendous pressure to embrace the latest technologies and acclimate themselves to new healthcare expectations. With custom software development services, it becomes easy for establishments to manage these newly adopted changes. But before that, it's important to understand is it worth investing in custom application development services? What are the things that an organization should prioritize before taking the custom plunge? Given below are some of the facts and stories that you should know about health care and custom development.
What makes Custom Software Development a favorite choice in Healthcare Industry?
The healthcare industry is by far one of the largest as well as the fastest-growing industries in the world. According to the U.S. Bureau of Labor and Statistics, it has been projected that employment opportunities in the healthcare sector will grow by 14% within just 10 years. This is much higher and faster as compared to the average employment opportunities across other sectors/ industries.
The health care industry is continuously evolving, and healthcare organizations are focused on effective and efficient operations. Right processes and tools are the need of the hour, and this is something that custom healthcare software can provide. They are the key to improving productivity. Top custom software development companies these days, offer unique custom development services that are known to provide real value to organizations and empowers them to make a difference in their patients' lives.
How do Healthcare Organizations benefit from Custom Software Applications?
Interested in knowing more about how custom application development services can bring about a change in your health care organization? Read on to unravel some of the best benefits of custom healthcare software:
Enhanced efficiency: The best thing about a custom healthcare solution is that it allows healthcare experts and specialists to collaborate and communicate with each other. Location is no longer a constraint these days. The best custom software application development services rendered by some of the top custom software development companies go a long way in creating a global professional platform/ community that allows experts to share their knowledge and keep themselves updated with the latest trends and happenings in the medical world.


Simple yet efficient operations: These days, almost all healthcare organizations are equipped with state-of-the-art medical devices that require regular maintenance, timely repair, and precise calibration. With the right maintenance software in place for efficient monitoring of health devices, one can easily streamline these in-house operations and focus on patient care.


Personalized Patient Care: Patients these days expect personalized services. They are interested in understanding the condition of their health on their terms, but at the same time, they cannot do away with doctor consultation. This has led to the increasing demand for custom mobile application development that includes several health apps, home-testing kits, telemedicine services, etc. At the same time, updated and modern appointment scheduling/ booking apps offer unparalleled opportuneness to patients and staff.


Better Security: Custom software applications by the best custom software development company are always developed in compliance with the business standards. Custom solutions thus built, guarantees that the personal and sensitive data of patients always remain secured and highly confidential.


Conclusion
It is high time that healthcare organizations and institutes accept and approve the importance of custom software development services in their business. Custom solutions do not only allow professionals to improve the quality of their services and offer unprecedented customer experiences, but they also bring along incontestable benefits to pathologies, hospitals, labs, and clinics.
Get in Touch
We have a team of experts who can help you get free estimates for your new or existing projects. Get in touch by filling the form below. We will be happy to help.